&

THIS IS JUST A SMALL UPDATE
MORE TO COME.
ENJOY
CLICK THE PICTURES FOR A BIG ONE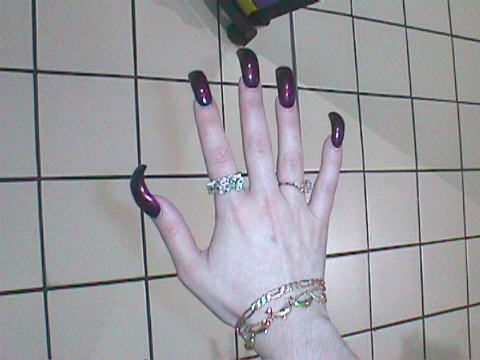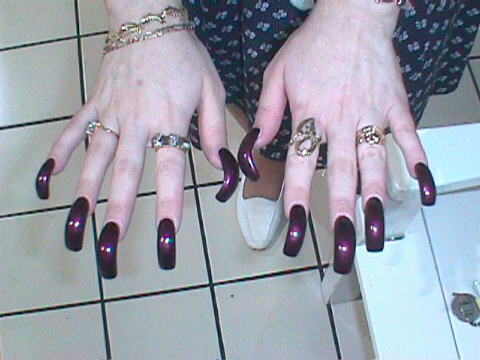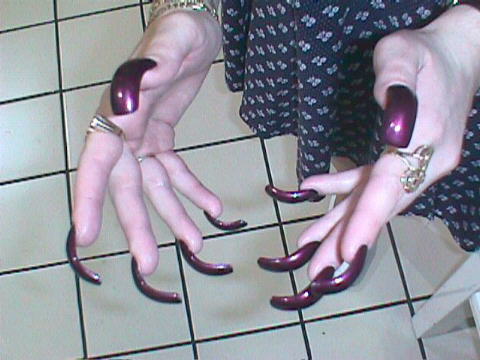 This was the first girl that I saw while I was doing some
christmas shopping at the mall. She looked like a nice girl
so I went over and explained what I was doing and she
thought it was a fun thing to do so she posed for a few
pictures. I asked her if she ever gets on the web and she
said that she does not even know how to turn on a computer.
And then said with my nails so long there is no way I could
type. I told her there are lots of girls with nails like yours
that type with no trouble. She said it was hard to see how
with a curve like mine have. She told me that this is as
long as she can keep her nails and she said she loves
having them this long.
******************************************************

This girl was walking and I said to myself go for it ! And
I did lucky for me. She was great, She was proud of her
nails. While I was taking the pictures I made a mistake and
looked at her in her eyes and I thought I was in love. To get
the angle as you can see I had to get right along side of her.
And I was 3 inch's from her face and all I know is that
she was looking right at my eyes. I have a thing for nice eyes
but this girl was great. I started to chat with her and she told
me that she was a waitress and that she gets lots of people
telling her how nice they are. Not so many guys though. I was
about to ask her more things but my beeper went off and I
had to leave. She was realy something and no wedding ring..
She would have talked alot more with me if my dam beeper
didn't go off. One more thing about her nails, It's hard to see
but she has a diamond on each nail in the middle.