* NEW UPDATE *
&
NEWS
---

I HAVE A FEW PICTURES TO SHOW EVERYONE AND I JUST WANTED TO SAY IF YOU HAVE TROUBLE WITH OTHER PARTS OF MY WEB PAGE IT IS BECAUSE I AM MAKING SOME CHANGES TO IT. IT IS GOING TO TAKE TIME TO GET IT ALL DONE. BUT ANY NEW STUFF WILL WORK..
THANKS & HAVE A GREAT DAY. * MIKE *

---

THERE ARE LOTS OF PICTURES HERE SO LET THEM LOAD. GO TAKE THE DOG FOR A WALK AND THEN WHEN YOU GET BACK IT WILL BE DONE. UNLESS YOU HAVE A CABLE MODEM, THEN GO FOR IT THERE DONE..HA HA HA


This girl works in the mall at the bath and body store. She was in a hurry like most of the girls that work at the mall.. I guess you only get so much time for a break..Anyway I thought they looked great. * Nice curve to them *
---
Hey it's lisa , The nail model.

Well Lisa came clean with me and told me she does not like nail art on her nails. So this will have to do .. They look great anyway..Lisa I hope you see them...You have been a great sport .

---

Nice french nails. I needed a drink , It's hard work taking pictures.

---

She works in the Bath & Body store also. I must tell you she thought her nails looked bad but she let me get a few shots anyway.

---

This girl sells sun glasses in the mall , And it looks like * Tony * must be her boy friend :-(

---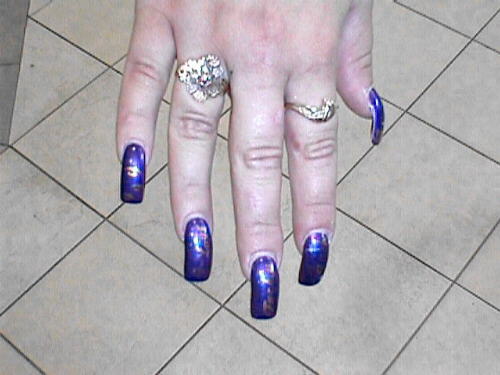 This girl had nail art on all of her nails . She had words on each nail, But I only found one nail that had a word that I felt would be ok to post on here..Don't ask about the other words..trust me.. Here is the only one I have..look below..
---

Just a quick pose for the camera . Two girls that saw me taking a picture of one of the other girls nails. They asked me if they can pose..

---

Here is some basic nail art..

---

This girl was at the counter when I went to buy my new sneekers. Now that looks nice. She told me her friend quit her job there to open a nail salon . I shot a picture of her friend a few months ago. But these look nice...nice job.

---

This girl only had her nails for two days and had two break all ready. She said she is way to hard on them but plans to get them fixed and learn how to be more careful with them. She works in a shoe store here.

---
THATS IT, MORE FROM A NAIL SALON SOON.
WANT TO TELL ME SOMETHING..CLICK HERE